We're reinventing the plastic bag
With the excessive amount of plastic contaminating our earth, we had to find a way to replace the plastic we use every day. That is why we created the Solubag, which has the same capabilities as any bag, but won't pollute our planet.
The Solubag is a great substitute for the plastic bag because of its qualities
firmness

elasticity

flexibility

resistance

reusability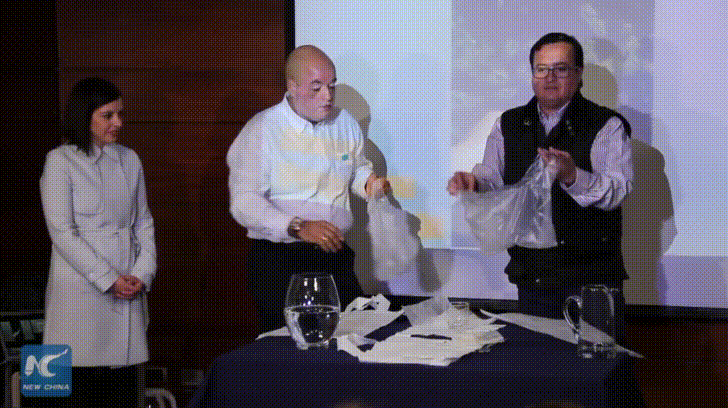 Forget about single use plastic, and the harm done by it. After shopping, if you would like to instantly disintegrate the bags, set them in their appropriate dissolving temperatures. Most items dissolve instantly at 185º+. If a bag flies away, don't worry, it will eventually dissolve, and although not the tastiest snack, it can be eaten by animals without harming them.
Solubag is based on patented technology. It contains polyvinyl alcohol (PVA), which is usually made from crude oil but Solubag found another way. It uses natural substances. This results in an environmentally friendly water-soluble substance.
Thanks to this revolutionary composition, the nontoxic Solubag quickly dissolves. Simply place the nontoxic bags and carrier bags into the water and stir. They dissolve within minutes.
A new plastic-like substance with similar versatile characteristics
Solubag's products range from thick to thin and from cold water soluble to hot water soluble. With many adjustment options available, it is very practical that the Solubag can be crafted to serve a certain purpose.
THE FUTURE OF PLASTIC IS HERE
Discover the Innovative Water-Soluble Solubag®